1st place – Mike Bomac Bolanos
2nd place – Odi Bakchis
3rd place – Ryan Kado
We are going to have 3 run groups for Saturday and Sunday. Total registered driver is 35 and we'll probably reach to 40 max by end of this week. Some drivers have already dropped out due to car issues that they can't resolve by the weekend and will resume at ASB. We have ex pros that have registered to regain their pro license back by end of season and some just out to have fun with everyone. After round 2, we have a open drift clinic at Willow Springs Raceway for 2 months before ALL STAR BASH. Then restart round 3. We'll have more ASB info after round 2 is over. A couple night drift events in the middle before ASB. Goodluck and see you this weekend at 7AM!
Here's the schedule below:
 Saturday 7am – 830am Tech inspection open
8am-830am – Drivers meeting
 830am – 12pm – open practice session
12-1230pm – lunch break 1230-5pm – open practice session
Sunday 7am – 830am
Tech inspection /Drivers meeting  8am-830am –
830am – 12pm – open practice session
 12-1230pm – lunch break/Drivers meeting with the judges
1pm-6pm – qualifying/top16/finals/team tandem
 I'd like to take this opportunity and share to everyone our generous sponsors and supporters of the event. We encourage you to support them back. These are the die hard fans of grass roots drifting and drifters alike. Thanks sponsors!!! Willow Springs Raceway, HPS, Yokohama/Advan, Megan Racing, AIT Racing, City Tire online, XXR wheels,FormulaD, KAAZ USA, APEXi, Hankook tires, VegasDrift, HellaFlush, Ziptied.com, MotorMavens, Toxic Images, SpeedHunter, DriftFotos.com, The Auto Parts Connection, Atty Carlo Reyes, Top line, The TOPDRIFT judges, Hiro Sumida, Henry Schelley, Justin Pawlak, Taka Aono and JUSTDRIFT staff.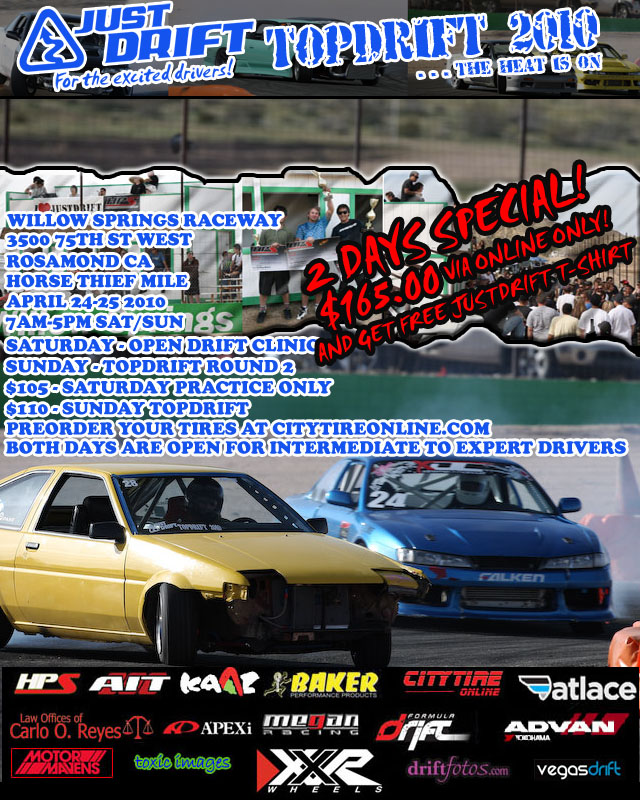 Debbie Picone
James Yoo
Jose Tapia
Masashi Motonaga
Michael Duque
George Camara
Joshua Guild
Adam Knapik
ALDO RODRIGUEZ
Amber Wicknick
Bruce Kress
Carlos Cano
Chris Licup
David Briggs
Edwin Kado
Fabian Fernandez
jordan yeh
Jose Amezcua
Maruicio Ornelas
Matt Madrigali
Mikey Mendoza
omead moinee
Ramon Hernandez
Randy Ramos
TJ Fry
Tommy Pham
tony cisneros
Aurimas Bakchis
Mikey Whitey
Richard Fadera
Ryan Fadera
Steven Chan
Miki Frial
George Kilada
matt bottieri    
Casper Canul
Jeff Jones
Charlie Ongsingco Blackberry Pin:20FEA2AB
VegasDrift this weekend!!! Come get some before "the heat is on"!