Sun's up! 630AM. People are waking up to the sound of race cars unloading from trailers, diesel engines pulling tows driving thru their camp sites and the smell of race fuels. Tech and registration started and followed by a drivers meeting. 40 competitors total for the day. We had to cap it, as there are 12 people in the "waiting list" trying to get in. Some top contenders from XDC that registered to compete at TOPDRIFT started rolling in – Mike Pollard, Gleb Antonov, Lance Feliciano and David Briggs. At 9AM the practice started. Judges were on site and watching everyone on practice. Giving them tips on how to drive the course.
You can spot them on top of the judging station.  Hung, Hiro, Henry on the radio ordering pizza , JTP and  Brian Bridges the 2009 Takatori Team owner. Also in this picture you can spot  Bernard, Eric Hill and some Norcal people.
We had different drivers from different States! Some even as far as Canada! Brandon Wicknick from Utah, Josh Guild from Las Vegas, Gleb Antonov from Washington State,  Dan Hillsbury from Idaho and Mike Pollard from Minnesotta. Then we had the Norcal group and the Socal locals that kicked ass as usual. Everyone was smoking it with insane entry speed and crazy angle! Cars these days have their own version of the "magic spindles". You can see ass out entries and followed by a big trail of smoke! Amazing… I always stop and watch everytime I get a chance.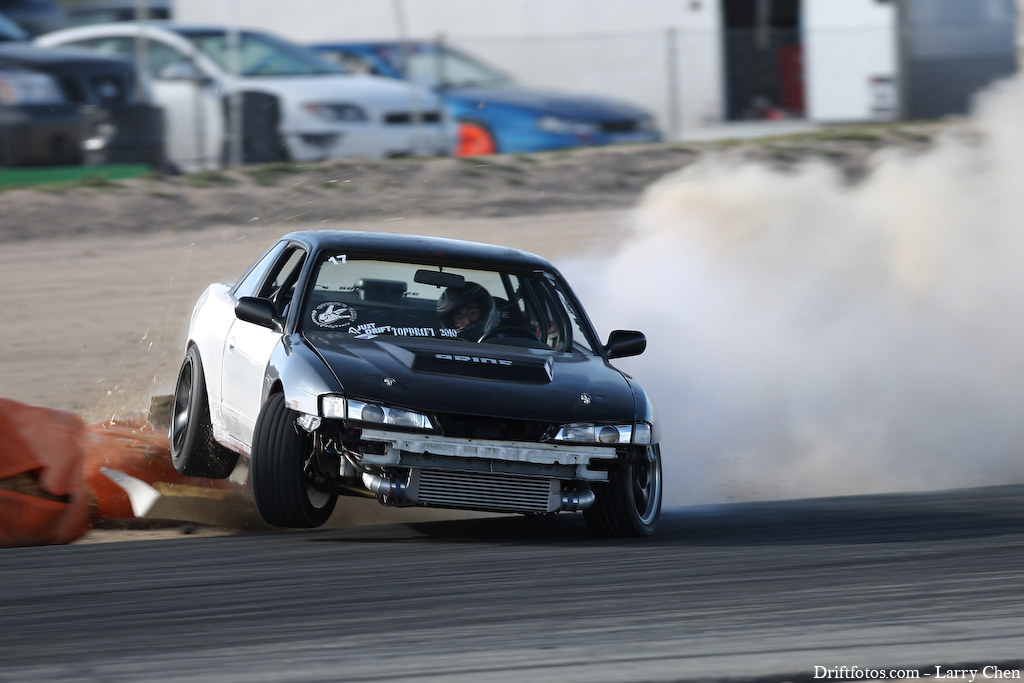 We had pizza for everyone for lunch and had a drivers meeting at the same time. The judges wanted to talk to the drivers one more time. After the drivers meeting, it was go time!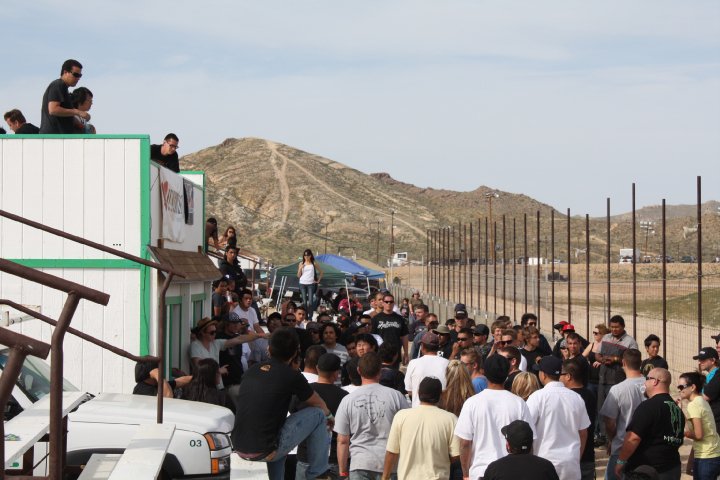 We run all 40 cars in qualifying! Unbelievable! Thanks to Mike Bomac and the JustDrift staff for managing the course like a well oiled machine. It was smooth flowing all day! From practice to qualifying. All 40 cars in about 2 hours! After all the smoke and eagerness has settled down, the judges only have to pick 16 from the 40 drivers. So the top 16 spots went to:
| | | |
| --- | --- | --- |
| POSITION | CAR # | DRIVER |
| 1 | 24 | David Briggs |
| 2 | 6 | Ryan Kado |
| 3 | 23 | Mike Pollard |
| 4 | 22 | Josh Guild |
| 5 | 40 | Gleb Antonov |
| 6 | 17 | Jordan Yeh |
| 7 | 29 | Odi Bakchis |
| 8 | 34 | Chris Mendoza |
| 9 | 28 | Carlos Kano |
| 10 | 26 | Mikki Frial |
| 11 | 2 | Brandon Wicknick |
| 12 | 38 | Steven Chen |
| 13 | 39 | Miko Eustaquio |
| 14 | 33 | Mauricio Ornelas |
| 15 | 37 | Mikey Whitey |
| 16 | 27 | Yuri Garcia |
Well you know what happens after that… the tandem on TOP16 gets exciting every year!
The top 8 was fought tightly with almost no room for errors or you're dead! A very noticeable fight was in top 8 – Carlos Cano in a S2000 powered AE86 and David Briggs and his S14 from Canada.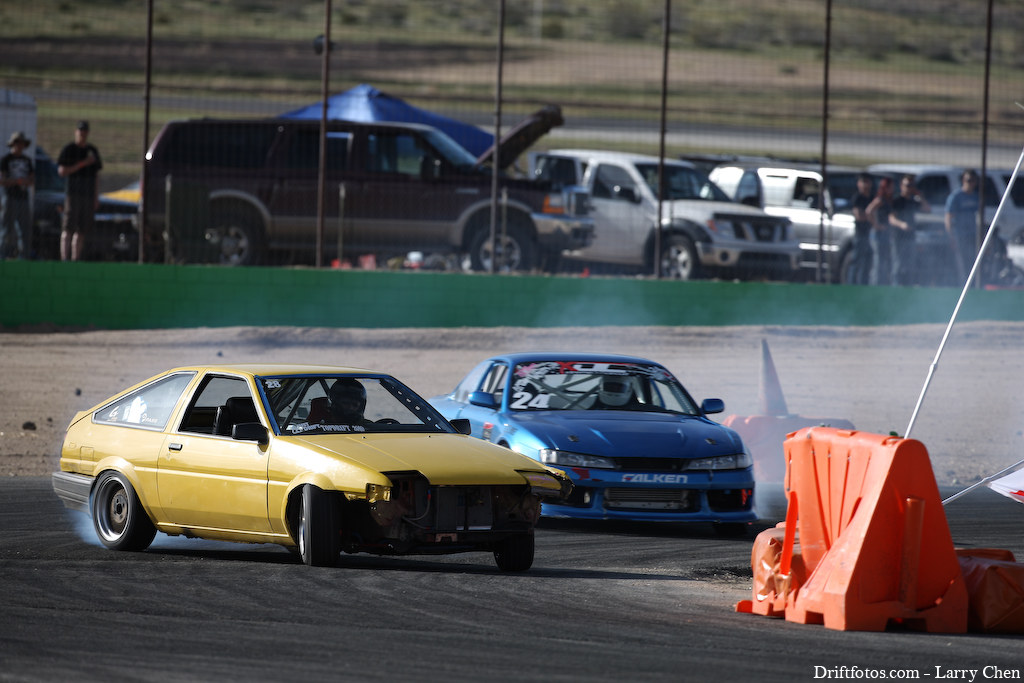 Carlos almost got the round, but messed up in one corner. I'm sure that had both of their heart pumping.  Then you have the 2 S14's just like the ASB from a few years back. Steven Chan and Josh Guild facing each other.
This time, trying to eliminate each other. Guild was on point all weekend from practice to qualifying. But he made a small mistake and Steven just stuck it to him like a hawk and made no error. Steven advanced and survived. Ryan Kado in his Hella S14 eliminated the  2009 defending champion Mikki Frial.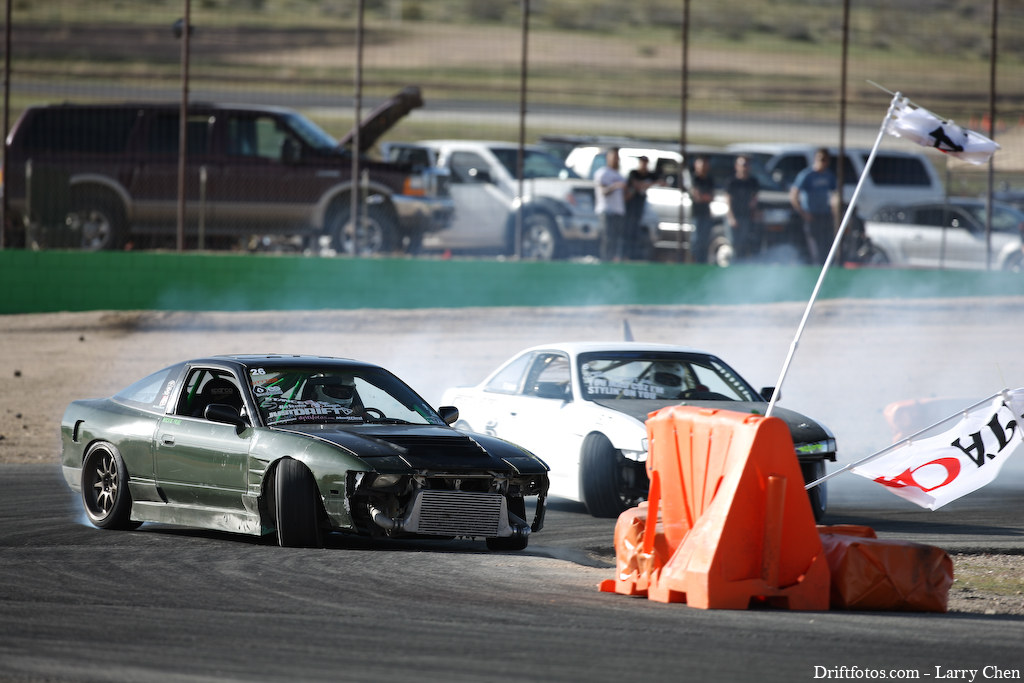 Mikki hates the oval… but he said "watch me at HTM!" I'll bring heat and light it up! Mike Pollard from Minnesota fought against a local driver – "Air Jordan – Yeah!" (OK his name is Jordan Yeh).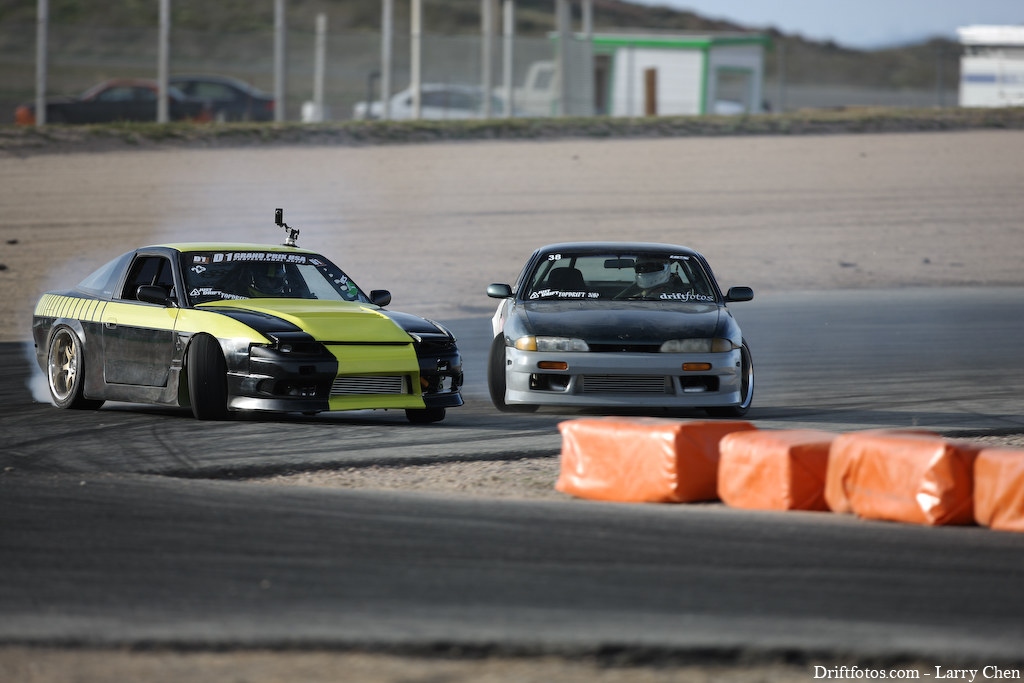 Mike with his determination lived on to see the next elimination round. Only to forfeit to Steven Chan's HPS S14 due to technical problems. Someone in the stands was yelling –  "Mike you need to use HPS hoses" I think that's funny, cause the HPS S14 moved on to defeat Mike. Very ironic battle. It's the 2 S14's battling for it. Ryan Kado settled for 2nd place due to mechanical failure. So David Briggs moved to the 1st place! Congratulations!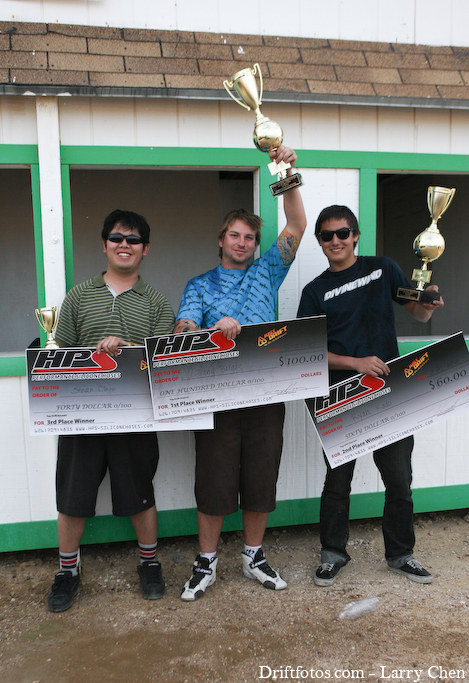 Thanks to all drivers for making this event one of the most exciting TOPDRIFT! See you next month at HTM! The heat is on!
Winners taking a shower! hahaha.. JTP is a bad aim!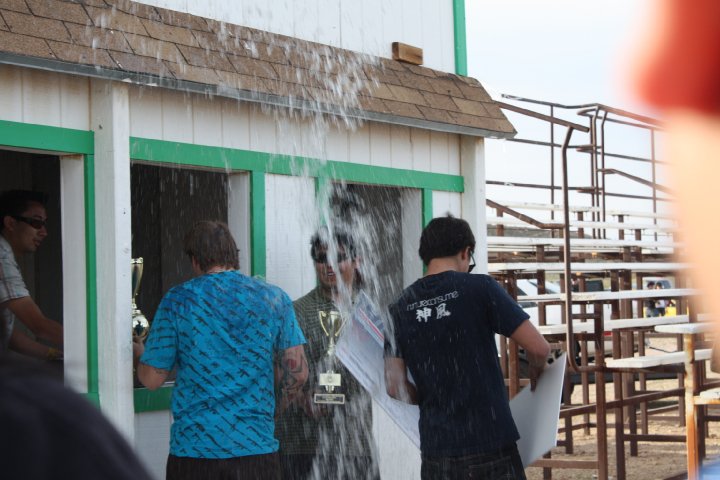 Thanks to all our generous and supportive sponsors for making this an awesome event!
Congratulations to David Briggs for 1st place Ryan Kado 2nd place and Steven Chan 3rd place for their podium positions this weekend at JUSTDRIFT TOPDRIFT BATTLE ROUND 1! 
TOP
16 POSITION
Mar 21, 2010
#24 David Brigs
#06 Ryan Kado
#23 Mike Pollard
#22 Josh Guild
#40 Gleb Antonov
#17 Jordan Yeh
#29 Odi Bakchis
#34 Chris Mendoza
#28 Carlos Kano
#26 Mikki Frial
#02 Brandon Wicknick
#38 Steven Chan
#33 Mauricio Ornelas
#37 Mikey Whitey