September 25, 2010: 7AM Saturday
Rise and shine! Practice day! I got to the tracks and early risers were already at the track making final changes to their cars. First thing I noticed is Ryan Kado's trailer, the number 1 on the leader board. But he's nowhere to be found. I was told he went hiking earlier. That's his secret for being a champ! Showing up early and trying to get the blood flow already.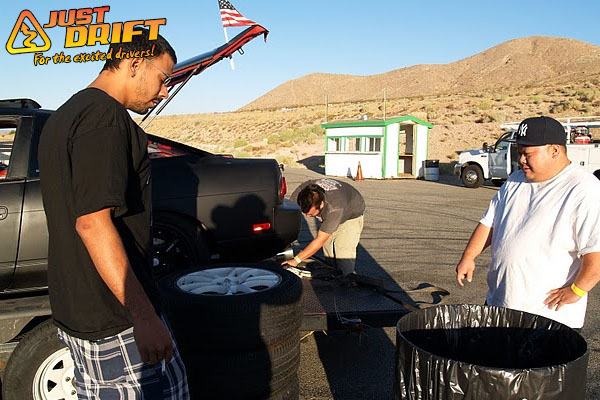 Few beginners and intermediate checking out their cars make sure it's going to hold up with the heat that's going to loom with us today. I unloaded my gear too, then the JustDrift crew went and setup the track for practice and clinic. Everyone is on time and we're hot by 9AM. Practice started with the advance/expert group. Mostly compose of drivers that are competing tomorrow. Everyone seems to be running conservatively. Maybe trying to save their cars and tires for the competition. Mostly everyone was, except for.. Ryan. I noticed the most improved driver that has been to the clinic a few times is Jesse Vargas, he drives that slammed Z like there's no tomorrow.

Omead has been showing up with his Toyota. But this time it's not a Supra but a ae86. You can see his progress in the little 86, he drove it better than his Supra.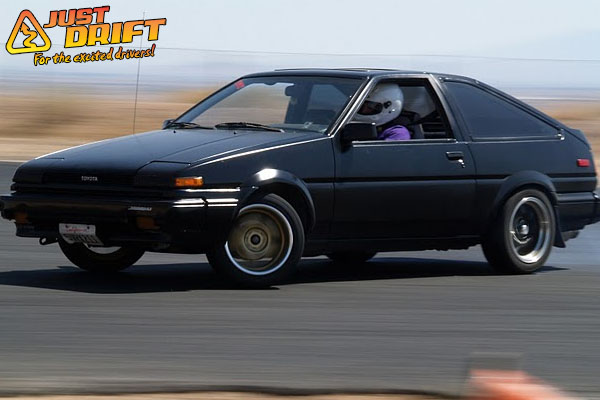 Then Kelvin Arreola from CX Racing is ripping in his v8 FC. Does anyone drive a rotary powered FC anymore? Carlos Cano the driver of "big bird" was out helping new drivers in our clinic. He's on top of his game, these guys have big heart for drifting. It's fun watching new drivers improve throughout the day. It's always exciting to watch the advance/expert drivers practicing tandem. I don't know if I can hang with our advance drivers anymore. They seem to get better and better. I should start practicing again! This year was a busy TOPDRIFT season. We had close to 30 drivers in every round consistently. The Drift Clinic is sold out almost every month. So I just hope we can maximize their seat time and teach them a lot in one day. I know you can't possibly teach everything in one single day. But hopefully they grasp the idea and come back again to improve their skills. As the day ended, we started pulling out the track obstacles and clipping point. To end the day, most of the track was laid out already.
Sunday
Another day bunch of tires will be smoked, lines will be drawn and a new champion will arise side by side with new winners. Henry Schelley – TOPDRIFT Judge and is one of the TOPDRIFT champion is out proofing the course. He was using Hung's S14, a near stock and tuned.  
Jason took the 86 to warm up and stretch out, get the throttle to open up! Sweet sound of the carbs!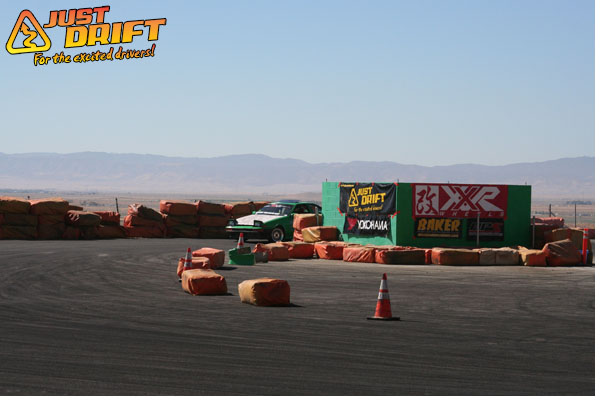 DDS performance is on site to change tires. Thanks DDS Performance for changing tires! It's much needed support for the drivers and community alike. It's convenient to the drifters to just roll their tires a few times and drop off at their trailer and get it changed. They were busy tossin` tires all day like McD's tossin` eggs at 8am! I dunno if that's a good comparison, but you get the picture.
Tech line is getting longer, but the tech inspection guys are on top of it. Tech went smooth, there was no issue with any cars at all. We proceeded with the drivers meeting and course walk. Judges were on deck to answer questions, everyone was attentive to the meeting. Because everyone wants to win! Game face on! Next in line is practice!
Practice started, drivers were shaking their cars down and driving conservatively for the first few laps. But some orange car manage to lose his bumper. hmm… Ryan?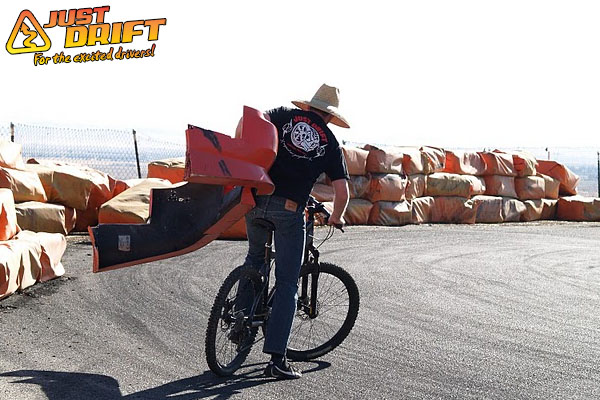 Then you see tandems once in awhile, I think everyone is observing how each of the drivers drive. I noticed a consistent practice between Ryan Kado and Jason Aquino. These 2 are predicting that they are going up against each other later… are they?
There was also a gauge between 2 corolla's A true and tested AE86 from Vegas with 4age or the Brotary powered AE86 of Jason Kim. Chris Licup and Steve Chan practicing together like they're going to be a dance partner at a prom of some sort. They always go out tandem together.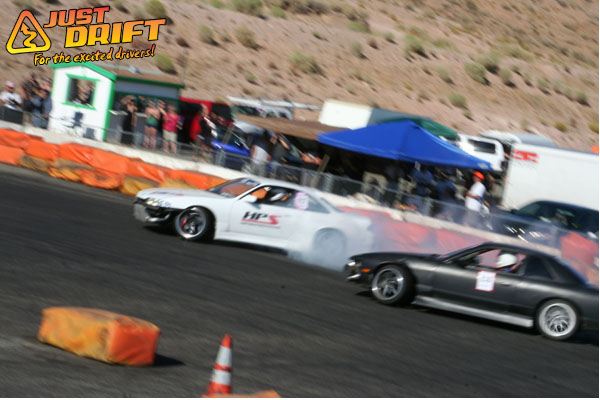 Then Carlos Cano is just out there like a mosquito trying to buzz anyone that lines up with him. I think he's just predicting that he can go against anyone later.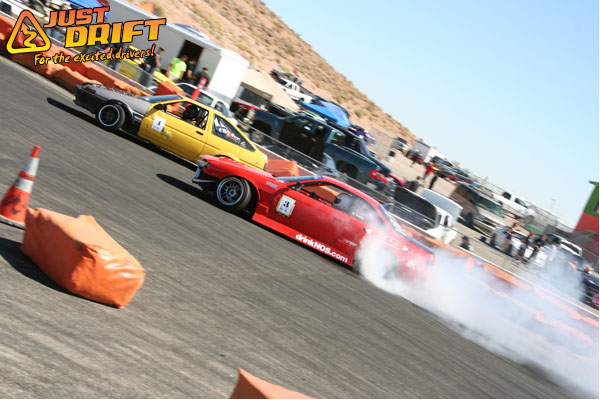 Spectators started showing up and setting up their tents up on top of the balcony bleachers. Pretty good spot to watch the action. Pit is getting crowded and cars going in and out of the hot pit area. Then there's Dan Burkett in his white FC, first time competing and was grazing the wall already. He's Mike Widett's friend and protégé`. He's actually doing pretty good!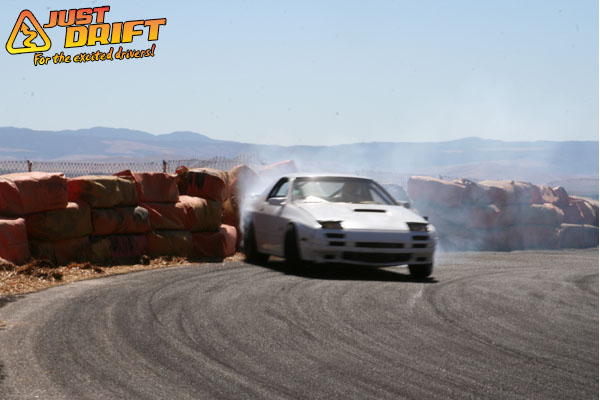 Josh Guild was also out practicing so he can gain his FD license, TOPDRIFT Champ title and the prizes!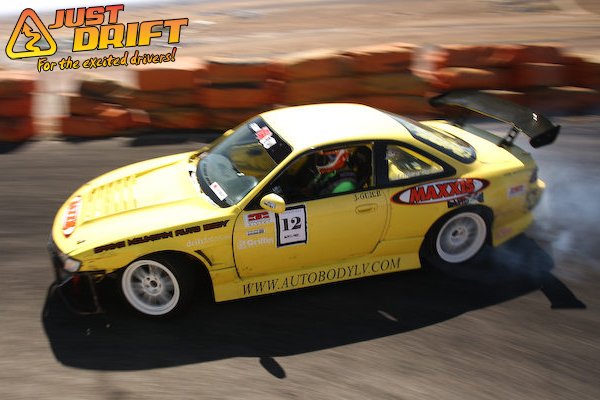 Odi Bakchis, the previous round winner is also putting on solid lines and speed. He later gained a #1 qualifier spot!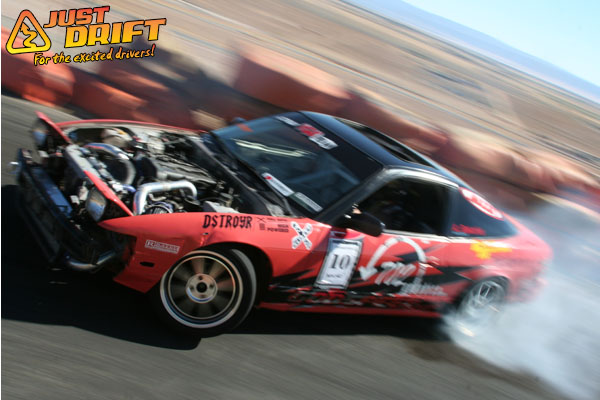 Tony Cisneros rumbles his GTO as usual!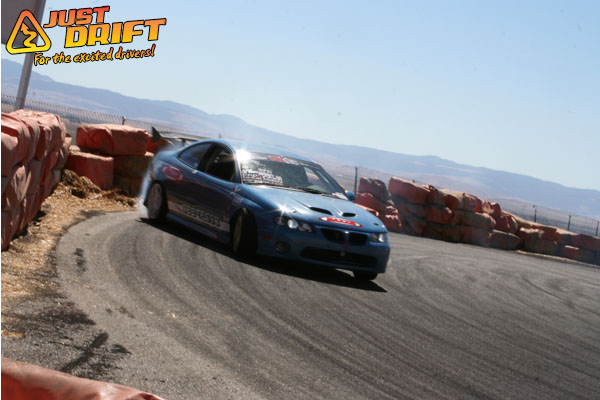 Kelvinator Arreola is smoking out his V8 FC. Everyone has V8's now!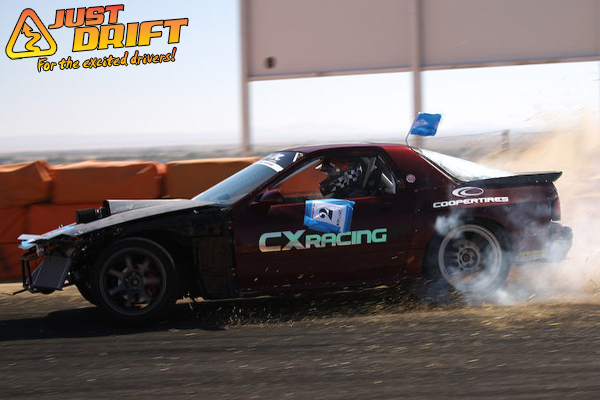 Matt Dale in his newly resurrected S14 is out to get everyone too. Matt Dale is a young blood from Las Vegas. He drives the gold S14 and started here at JUSTDRIFT. I remember him and his mom towing their car from Las Vegas and attending the Clinic. He's well way on becoming a PRO soon. Watch out FD! You got a "White Gushi" in the making.

Unfortunately George Kilada had to retire so does Yuri Garcia. Soon to follow is Jason Kim in his Brotary powered AE86. He lost his 3rd gear in a tandem practice. He just installed a cage for the night before. He didn't have a cage on Rd3 when he qualified for Top 16. So unfortunately, he didn't move on. Sorry Jkim! "We didn't think… "
Qualifying started and everyone was running at least one solid run. This is when I know the judges are working hard. I went back to the pit to check things out and noticed Mio Bolanos (Bomac's dad) working on the green AE86, and I realized that ohhh.. Jason's driving that. Apparently he gained another son, so he's out fixing the drift car and making sure Jason's on point with it. After a couple of hours, the top 16 result is here. This is the qualifying order. The drivers put themselves in this position.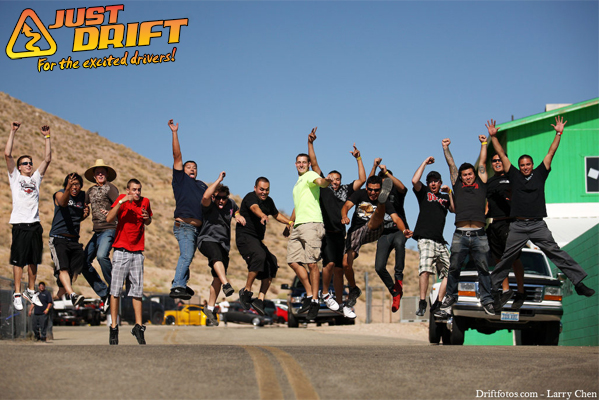 Top 16 qualifer
Odi Bakchis
Kelvin Arreola
Ryan Kado
Josh Guild
Steven Chan
Carlos Cano
Adam Kanpik
Tony Cisneors
Chris Licup
Mikey "whitey" Earnst
Enrique Mendoza
Mauricio "Flaco" Ornelias
Brandon Patterson
Jason Aquino
Matt Dale
Danny George
First pair is Odi the Round 3 winner and Danny George the Miata from Las Vegas. This run was everything that was and wasn't. Upset from the 2nd points leader, unbelievable. Mr Consistent spun and gave the win to Danny.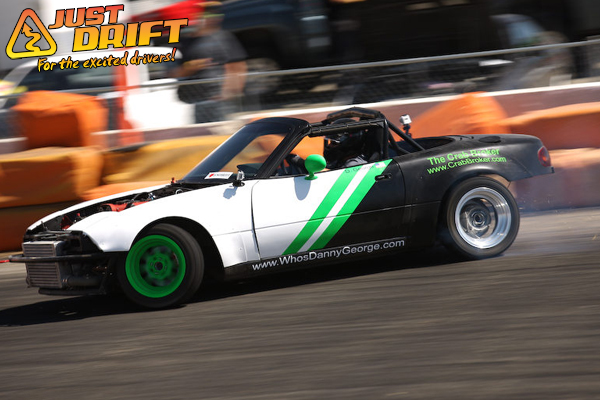 Danny and his monster Miata is well on it's way to Top 8 knocking number 1 qualifier Odi Bakchis and 2nd in the leader board! What an upset, that's drifting for you folks. It's anyone's game until you see someone in that podium. So don't give up! Even monkey falls from trees, even consistent and awesome driver like Odi makes mistakes. We're only human.
Matt the rookie, takes out Kelvinator in the V8 FC.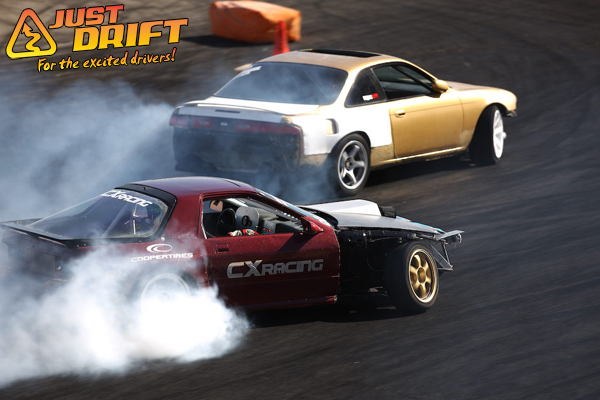 Like I said earlier, Jason Aquino Vs Ryan Kado. The AE86 and Jason did everything both of them can do, the machine has limits and is no match to the tuned S14 of Ryan Kado. Ryan the points leader is in tune with his car, full 100% control. From lead to follow, can't get any clearer than that. A prime example of a good driver behind a competitive car.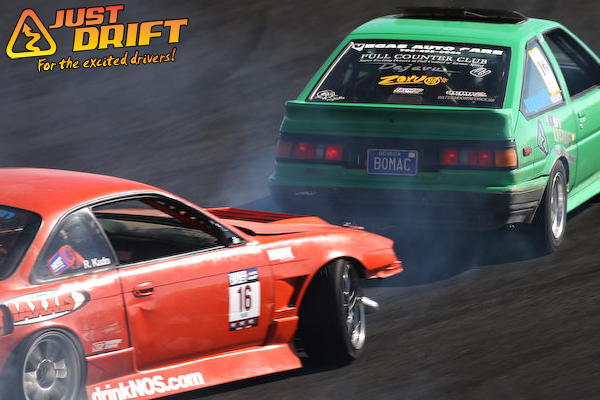 Brian Patterson went up against Josh Guild, a 2nd upset in the battle, too early.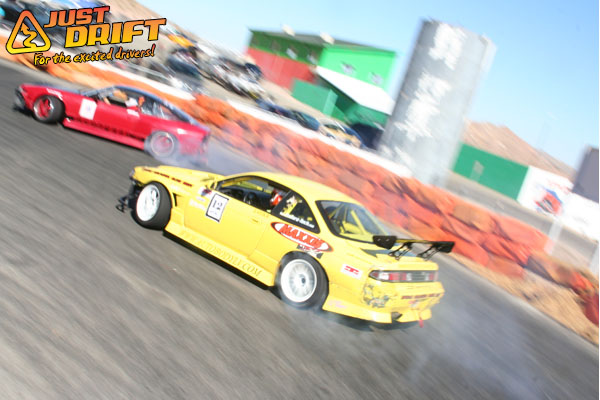 At top 16, The excitement got to our best drivers. Josh sits on the 3rd spot of the leader board. Steven Chan advanced against Flaco in a good battle. Another upset is Enrique vs Carlos, the Vtec powered AE86 lost the battle.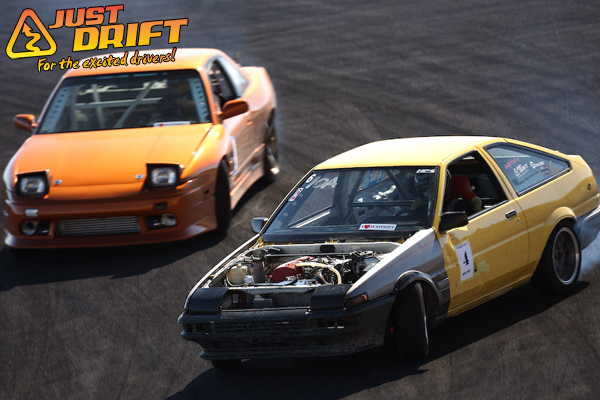 So that's 3 of the leader out in Top 16. Mikey Whitey's green S13 coupe took out Adam Knapik and moved on to Top 8.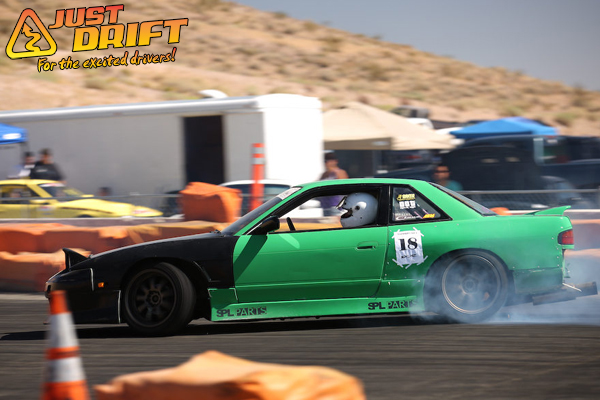 Then Tony's monster GTO surrendered to Chris Licup's S13. Licup moved to Top 8.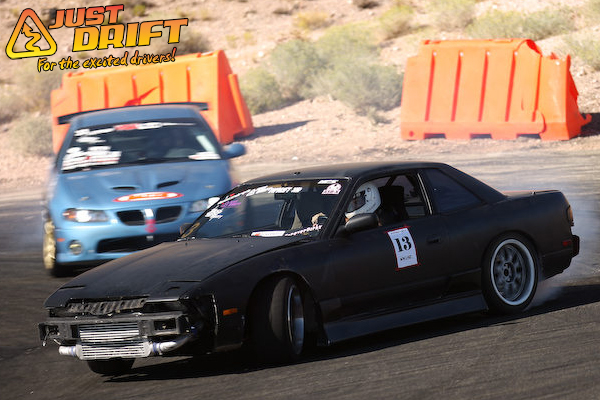 Then top 8 battle gets tighter…
Matt Dale's consistent run took Mikey Whitey out, another upset is Ryan vs Enrique, the number 1 guy in the leader board is out and will not see podium on Rd 4.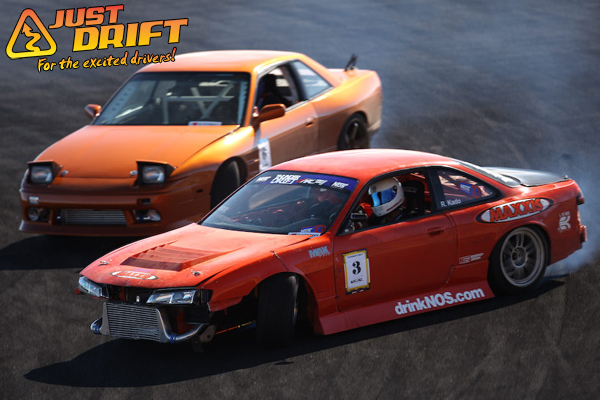 They are now watching from the sidelines, cheering on their friends. But we know what Josh was doing, calculating his points! Chris Licup took out Danny George in his monster Miata. Steven Chan advances against Brian Patterson.  Now battle for 3rd place goes Steven vs Enrique.
Steven gets the podium in his HPS S14. Battle for 1st place is between Matt Dale the rookie from Las Vegas and Chris Licup. Between a few one more times, Matt's turbo surrendered but Matt didn't. Chris Licup tapped a barrier while Matt following his line, never blinked and flinched. Make this long story short, Matt kicked some serious butt and took names down as he enjoyed his 1st podium finish. Matt Dale 1st place, Chris Licup 2nd place Steven Chan 3rd place.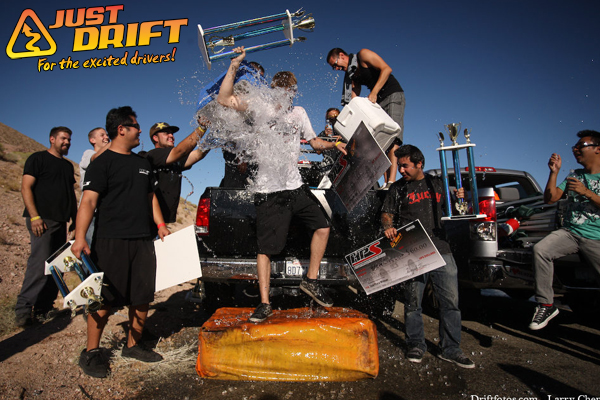 TopDrift 2010 has concluded, and a new champion has arrived. Ryan Kado welcome to the ranks of the TOPDRIFT champions!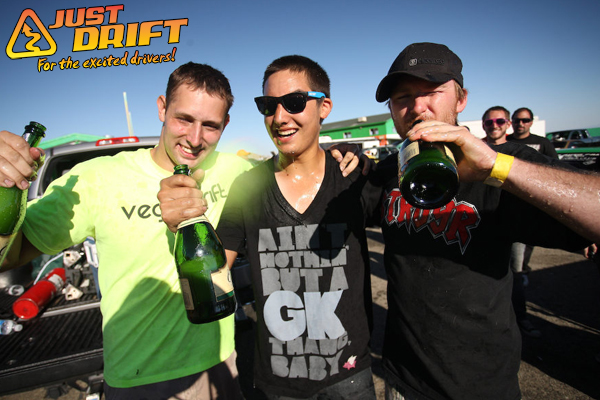 TOPDRIFT 2010
1st place Ryan Kado
2nd place Odi Bakchis
3rd place Josh Guild
4th Place Chris Licup
5th place Steven Chan
Good luck to the new Formula D licensed Pros! You guys rock hard! See you in LBC 2011!
Good luck to our PROAM reps!!!
Just when I thought everything was safe! Got bombed by Josh Guild!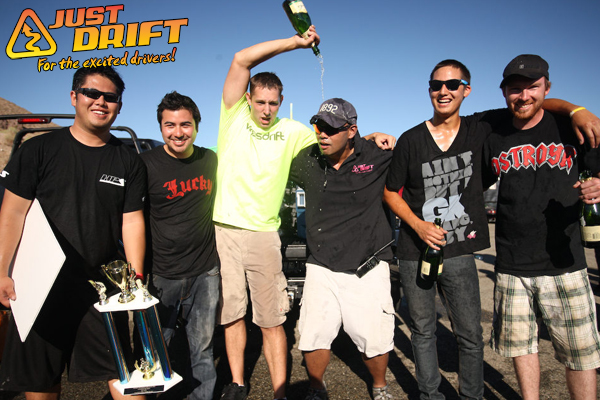 Thanks to all the drivers that supported JustDrift since 2001 and TOPDRIFT BATTLES since 2006! You guys are awesome and that's why we keep doing this every year! 
Thank you! All our sponsors for the continued support!
HPS, KoyoRad, Yokohama/Advan, Apexi, Megan Racing, XXR Wheels, Kaaz USA, Fatlace, Baker Precision, Drift Fotos, Toxic Images, Law Offices of Carlo O. Reyes, AIT Racing USA and Willow Springs Raceway – Thank you!!!!
All our judges and guest judges that endured the long hours, cold, rain and heat of Southern California! – Thanks!Henry Schelley, Hiro Sumida, Taka Aono, Justin Pawlak, Charles Ng, Mike Essa and Matt Powers
Photo Credits: Driftfotos.com, Krew of 1 and toxic images