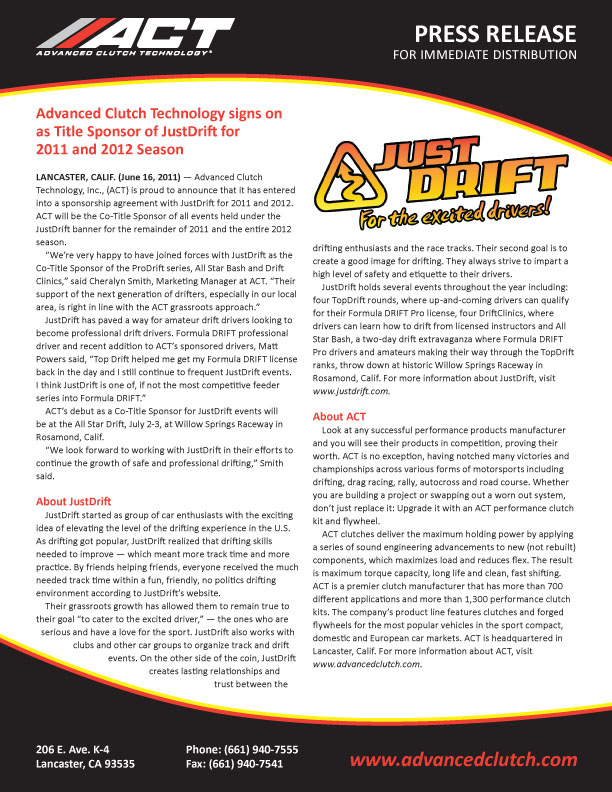 Advanced Clutch Technology signs on
as Title Sponsor of JustDrift for
2011 and 2012 Season
LANCASTER, CALIF. (June 16, 2011) — Advanced Clutch Technology, Inc., (ACT) is proud to announce that it has entered into a sponsorship agreement with JustDrift for 2011 and 2012. ACT will be the Co-Title Sponsor of all events held under the JustDrift banner for the remainder of 2011 and the entire 2012 season.
"We're very happy to have joined forces with JustDrift as the Co-Title Sponsor of the ProDrift series, All Star Bash and Drift Clinics," said Cheralyn Smith, Marketing Manager at ACT. "Their support of the next generation of drifters, especially in our local area, is right in line with the ACT grassroots approach."
JustDrift has paved a way for amateur drift drivers looking to become professional drift drivers. Formula DRIFT professional driver and recent addition to ACT's sponsored drivers, Matt Powers said, "Top Drift helped me get my Formula DRIFT license back in the day and I still continue to frequent JustDrift events. I think JustDrift is one of, if not the most competitive feeder series into Formula DRIFT."
ACT's debut as a Co-Title Sponsor for JustDrift events will be at the All Star Drift, July 2-3, at Willow Springs Raceway in Rosamond, Calif.
"We look forward to working with JustDrift in their efforts to continue the growth of safe and professional drifting," Smith said.
About JustDrift
JustDrift started as group of car enthusiasts with the exciting idea of elevating the level of the drifting experience in the U.S. As drifting got popular, JustDrift realized that drifting skills needed to improve — which meant more track time and more practice. By friends helping friends, everyone received the much needed track time within a fun, friendly, no politics drifting environment according to JustDrift's website.
Their grassroots growth has allowed them to remain true to their goal "to cater to the excited driver," — the ones who are serious and have a love for the sport. JustDrift also works with clubs and other car groups to organize track and drift events. On the other side of the coin, JustDrift creates lasting relationships and trust between the drifting enthusiasts and the race tracks. Their second goal is to create a good image for drifting. They always strive to impart a high level of safety and etiquette to their drivers.
JustDrift holds several events throughout the year including: four TopDrift rounds, where up-and-coming drivers can qualify for their Formula DRIFT Pro license, four DriftClinics, where drivers can learn how to drift from licensed instructors and All Star Bash, a two-day drift extravaganza where Formula DRIFT Pro drivers and amateurs making their way through the TopDrift ranks, throw down at historic Willow Springs Raceway in Rosamond, Calif. For more information about JustDrift, visit
www.justdrift.com.
About ACT
Look at any successful performance products manufacturer and you will see their products in competition, proving their worth. ACT is no exception, having notched many victories and championships across various forms of motorsports including drifting, drag racing, rally, autocross and road course. Whether you are building a project or swapping out a worn out system, don't just replace it: Upgrade it with an ACT performance clutch kit and flywheel.
ACT clutches deliver the maximum holding power by applying a series of sound engineering advancements to new (not rebuilt) components, which maximizes load and reduces flex. The result is maximum torque capacity, long life and clean, fast shifting. ACT is a premier clutch manufacturer that has more than 700 different applications and more than 1,300 performance clutch kits. The company's product line features clutches and forged flywheels for the most popular vehicles in the sport compact, domestic and European car markets. ACT is headquartered in Lancaster, Calif. For more information about ACT, visit
www.advancedclutch.com.